Wedding Services.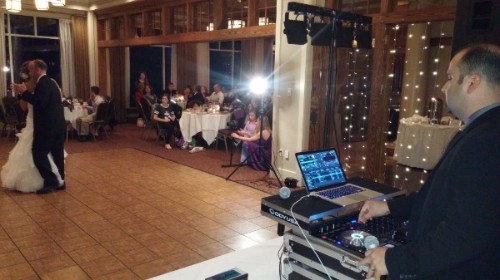 ​
​
 We offer the packages that will make your special day memorable.
We also have many options to choose from such as ceremony music,
​unlimited time, ambient lights and much more!

Most importantly, we work with you in making your special day
as individual as YOU !
We believe in making this life event UNIQUE, AFFORDABLE,  STRESS-FREE and above all FUN !
​
Let's chat about your budget along with your wishes to make your wedding day one-of-a-kind! 

- 4 hrs of music for cocktail, dinner, party plus all your requests and any announcements.
- Setup and break down of gear
- backups of all music and gear
- dance floor club style lights
- Wireless Microphones
- a professional attired DJ/MC
- backups for all the music and gear
- Fully Insured (Peace of mind)
- All the FUN we can fit for you and your guests!!


- Unlimited Pre- Event Consultations

   We'll be available to help you with any questions
   or concerns and to coordinate everything for the reception.

 - Online Event Planning Account available 24/7 (music request, payments, etc..)
​

- 5 hrs of music for cocktail, dinner, party plus all your requests and any announcements.
- Setup and break down of gear
- backups of all music and gear
- dance floor club style lights
- Wireless Microphones
- a professional attired DJ/MC
- backups for all the music and gear
- Fully Insured (Peace of mind)
- All the FUN we can fit for you and your guests!!


- Unlimited Pre- Event Consultations

   We'll be available to help you with any questions
   or concerns and to coordinate everything for the reception.

 - Online Event Planning Account available 24/7 (music request, payments, etc..)

​

- 6 hrs of music for cocktail, dinner, party plus all your requests and any announcements.
- Setup and break down of gear
- backups of all music and gear
- dance floor club style lights
- Wireless Microphones
- a professional attired DJ/MC
- backups for all the music and gear
- Fully Insured (Peace of mind)
- All the FUN we can fit for you and your guests!!


- Unlimited Pre- Event Consultations

   We'll be available to help you with any questions
   or concerns and to coordinate everything for the reception.

 - Online Event Planning Account available 24/7 (music request, payments, etc..)

Contact Us